Sales commissions are a key component of sales compensation. According to the number of sales made, it's the amount of money that salespeople earn. This is money on top of the regular salary.
It takes more than nice words to encourage your team to keep pushing forward in the sale, which is a competitive line of work. To succeed, you must understand them, their motivations, and implement a well-thought-out sales commission structure.
"A good commission structure will support or hinder your whole company's growth,"
The role of the sales commission process in the sales incentive program
Designing a successful sales incentive program requires breaking commissions down into pieces and making important decisions along the way.
A variety of operational bottlenecks plague organizations that use manual compensation processes. If left unchecked, inefficient manual compensation processes can severely limit a company's ability to grow.
The challenges in unstructured and manual processes include:
Inadequate sales results: Lack of plan clarity, shadow accounting leading to decreased sales
Inaccurate commissions payouts: Audit teams continue to find overpayments in commissions
Inefficient and inflexible systems: IT teams face lengthy annual compensation plan changes
Consider the three pillars of Sales Commissions which will help in identifying the underlying issues:
People
Process
Platform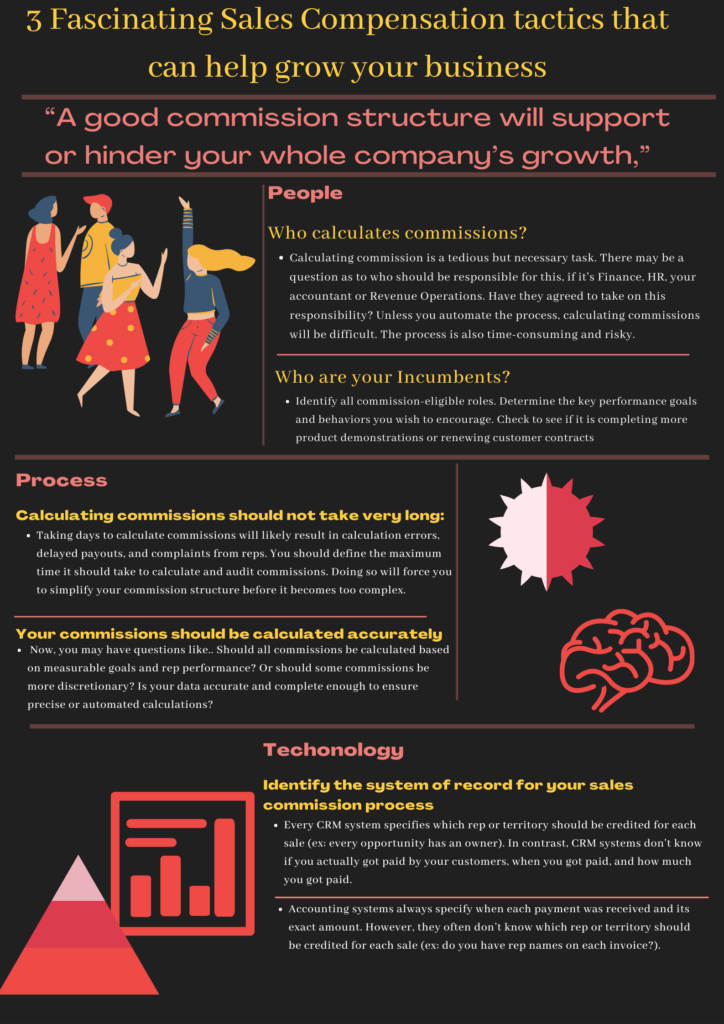 Who calculates commissions? Calculating commission is a painful, yet crucial task. You may wonder who should own this, if it is the Finance department or your accountant, or your VP of sales. Do you have buy-in from them? If you don't automate the process, calculating commissions is going to be difficult. It's also time consuming and risky.
Who are your payees? Start by identifying all commission-eligible roles. Next, determine the key performance goals and behaviors you wish to encourage. Check if it is completing more product demos or renewing customer contracts. You can't define a commission structure without identifying each role and a corresponding set of sales behaviors to promote.
Calculating commissions should not take very long. Taking days to calculate commissions will likely result in calculation errors, delayed payouts, and complaints from reps. You should define the maximum time it should take to calculate and audit commissions. Doing so will force you to simplify your commission structure before it becomes too complex.
Your commissions should be calculated accurately. Now, you may have questions like.. Should all commissions be calculated based on measurable goals and rep performance? Or should some commissions be more discretionary? Is your data accurate and complete enough to ensure precise or automated calculations?
Identify the system of record for your sales commission process
In most cases, it will be your CRM or accounting systems. Let us learn a bit about their pros and cons:
Every CRM system specifies which rep or territory should be credited for each sale (ex: every opportunity has an owner). In contrast, CRM systems don't know if you actually got paid by your customers, when you got paid, and how much you got paid.
Accounting systems always specify when each payment was received and its exact amount. However, they often don't know which rep or territory should be credited for each sale (ex: do you have rep names on each invoice?).